Project Description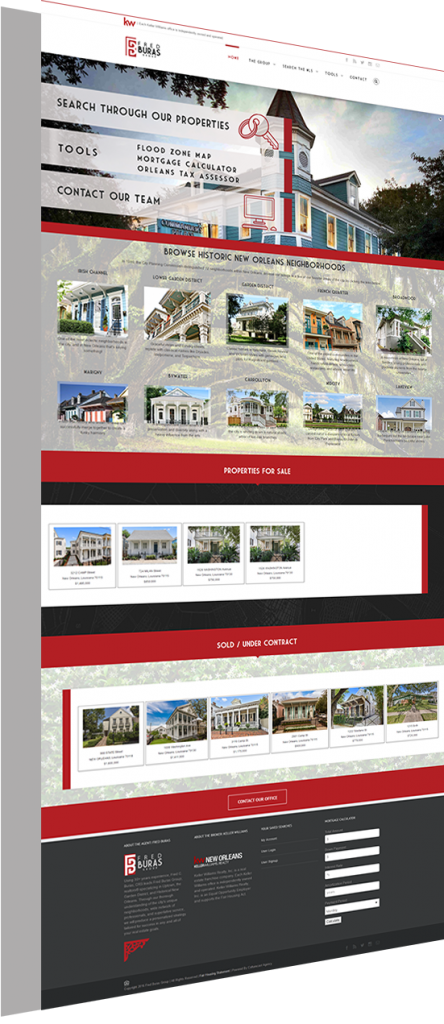 In Feburary 2016, Fred Buras Group, an independently owned and operated Keller Williams Real Estate company, partnered with Culturecast Agency to produce a new logo, website design and development as well as provide web hosting services, IT infrastructure for their office, and an exchange e-mail environment hosted, migrated, and maintained. Culturecast Agency proudly presents http://www.fisherconstruction.org, a beautiful design by Culturecast Agency Creative Principal Jonas Dominique. The site features various animated elements that are inspired by the construction equipment used by Fisher for their work. "The homepage, which we presume will be the busiest landing page for the site, features a drill animation as you scroll down the page, using premium high-resolution imagery that moves left and right in a parallax as the page moves," says Dominique.
Creative Principal Jonas Dominique took the lead on the creative projects, starting first with the new Fred Buras Group Logo. Inspired by a doorknocker, the new Fred Buras logo would, as requested, include an F and a B, as the initials of Fred Buras (the groups leader and founder). In styling, an art deco approach was chosen as it fit the "ritzy yet elegant appeal of the unparalleled uptown mansions within their listings," states Dominique. "We wanted this group to be recognizably associated with the Keller Williams brand in our color palette and modern style, but Fred Buras group sets themselves apart even from other KW offices by their experience in and specialization of listing garden district and historic properties. We feel that the logo is an illustration which captures the elegance and clean lines of the renovated and modern houses that are mostly over 100 years old included in their portfolio."
A new website would have to include their IDX listing platform for searchability in the MLS, along with contact information, group information, and a new blog for the Buras Group to curate their expertise of historic New Orleans real estate and develop the knowledge base within their market. Thus, a transformation from FredBurasGroup.com took place, and now, Culturecast Agency proudly presents GardenDistrictLiving.com by the Fred Buras Group! This beautiful web site, designed by Culturecast Agency Creative Principal Jonas Dominique, includes a full IDX integration with MLS search capabilities, specialized neighborhood search pages marketed directly to the group's target, and an active blog environment which drives content marketing and user interactivity.
"Fred Buras is a real estate icon in New Orleans. His reputation and attention to detail are magificent, and we are proud to work with such an esteemed client and partner," says Calen Bedford, Technology Principal at Culturecast Agency. "In real estate, there is a lot of competition in every city. For this group to define their specilization, segment a distinct market, take advantage of professional and clean branding by Culturecast, and invest in a state of the art office environment and web experience for their users, Fred Buras Group is on fire!!!"
Exchange E-Mail Environment
5%