Culturecast Agency Unveils New Logo for Award Winning Journalist
(Dallas, TX) March 5, 2016 – Christopher Heinbaugh has partnered with Culturecast Agency, a full service marketing and advertising firm in New Orleans, LA and Dallas, TX, to shape his independent branding identity with artwork for his new logo. Culturecast Agency announces the new logo as an icon that reflects the sophistication and artistic appeal of the man it represents.
Chris Heinbaugh had an 18-year career in journalism. He moved to Dallas in 2000, covering City Hall and politics for WFAA-Channel 8 and occasionally writing for The Dallas Morning News. He also worked at TV stations in Seattle, Phoenix, Richmond, El Paso and Orange County. Chris served on the national board for the journalism organization Investigative Reporters and Editors and was a founding member and first president of the Lone Star Emmy Chapter. During his journalism career, Chris received 13 Emmy Awards, two Edward R. Murrow Awards and was named Best Reporter by the Associated Press Broadcasters in both Texas and Arizona.
Titled "From Within" –  The logo is inspired by Heinbaugh's involvement in the arts, and it features the illusion in which the logo appears to be an H in a Block. When looked at a little closer, we notice that the is truly a C wrapping around an H, the initials of the client.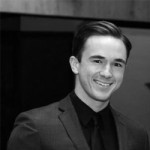 "We worked very hard to capture the essence of this great man in a modern, meaningful, and concise illustration. When looking at it, people have understand and trust this man's brand within the first few seconds, or the impact is lost," states Culturecast Agency Creative Principal and designer of the logo, Jonas Dominique.
"When achieving something so critical as cultivating a personal brand, it gave me confidence to work with a group of talented individuals that I already knew and trusted," states Heinbaugh.
About Culturecast Agency
Culturecast Agency is a full service marketing, advertising, and IT firm based in the Greater New Orleans area with clients locally as well as in the Dallas and Washington DC markets. The firm is organized into five departments: Creative Services, Information Technology, Marketing Research, Marketing Education/Training, and Sales/Development. Culturecast Agency boasts a dynamic team of marketing, advertising, and technology experts with Fortune 500 leadership experience, entrepreneurial and business ownership success, and proven track records in all areas of the firm's service offerings.