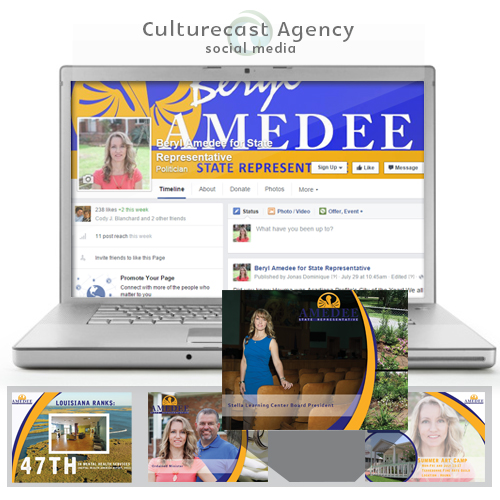 Beryl Amedee, a Parish Councilwoman, small business owner, and community leader from Terrebonne Parish, has partnered with Culturecast Agency in branding her new campaign with a logo, photography, and social media services. Culturecast Agency, under the Creative Direction of Jonas Dominique, presents to you, a logo that showcases the strength this woman has, the vision she brings, and the powerful nature she has tapped into.
The Pelican was chosen because not only is our state bird a symbol of strength, flight signifying upward mobility, and courage (as the bird comes across as fearless), but in Christianity, the bird is viewed as a symbol of sacrifice, giving of its own blood to feed its young. "It is important that this logo showcase the pelican for these reasons, but the logo also had to represent a strone feminine character. Beryl is not just a strong leader running for office. She is a strong woman, and she is facing more challenges because of this."
Culturecast, in partnership with the Campaign for Beryl Amedee, proudly present to you, the new logo titled: "Wingspan" (copyright pending).
Culturecast was also hired to represent Beryl Amedee on social media platforms. Utilizing Facebook and Twitter, Beryl Amedee is a consistent brand with common themes. We are using analytic data for a very professional campaign and public image, and Beryl enjoys the "autopilot" relief of offloading the very tedious and timely chore that is posting to social media and keeping things up to date/current.
Disclaimer: Copyright 2015: The Culturecast Agency's design, this logo titled "Wingspan" may not be used without prior written permission from us. It may not be duplicated or used for profit under any circumstance.